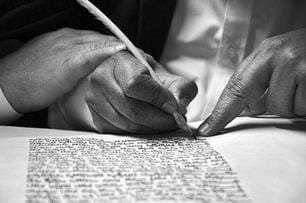 Rather than a hobby, lettering is a skill that can be put to use to make money. But are there actual hand lettering jobs that pay?
Many lettering professionals sustain on the income received from their careers as lettering artists. It is not a very difficult task to choose a career in lettering. A prospective lettering artist will need to learn the basics of the skill by putting time and effort. If you are truly inspired then the path will become clear for you. The nature of the job demands that you acquire the right tools to be successful in a career of hand lettering jobs.
Start Practising
Malcolm Gladwell's theory says that a person needs to practice for 10, 000 hours to become an expert in any skill. Whether Malcolm is right or wrong is beside the point. The first step in getting hand lettering jobs is to find time to practice and improve your skills. Do not be misled to understand that you won't be able to begin a career in hand lettering before completing 10, 000 hours of practice sessions. It is like learning to drive or swim. You learn along the way or hone your skills as you put your skills to work. So each paid job is a practice session too.
The Art of Learning by Doing
Most earning professionals became experts in their fields by learning from their paid jobs with basic knowledge in their chosen careers. Experienced professionals have revealed that they were motivated and dedicated when they set on their fields. The jobs that they did condition and set the pace for future endeavors increasing their confidence and skills.
Start Learning The Art of Lettering
There are a lot of paid as well as free resources available to learn the art of lettering that will gain you many hand lettering jobs. Before selecting a course, look for the below parameters:
i. Simple to understand.
ii. Credentials of the providers.
iii. Confirm that it is basic if you are a beginner.
After Learning The Basics
You put decent enough time and effort to learn lettering from a good teacher. Now what?
It is time for you to find hand lettering jobs. There are two types of paid jobs available:
i. A salaried job with a good firm.
ii. Find your clients as a freelancer.
Let us explore the ways and means to start your career in either of the two possibilities.
Joining A Company As An employee
Your journey starts with browsing search engines with the correct keywords to hot upon prospective employers. Here are a few chosen keywords that you can enter into the search bar:
i. Lettering artist job vacancy.
ii. Lettering artist job.
iii. Job of lettering artist.
iv. Lettering artist opening.
The above keywords will come up with many search results. You need to have an attractive resume ready for applying to the jobs. Take to make a good resume. Proofs read it and get it checked by people who know. Search online and find sample CVs to compare and adopt a suitable format.
All job applications should be accompanied by a good cover letter. Invest time in making a good email body. Be precise and to the point. Ensure to add that you have attached your CV in a commonly readable format. The cover letter should be personalized by mentioning the title of the application and the source from where you found it.
Send applications to all the positions and wait for follow-up calls or emails from prospective employers. You can rest assured that you will be able to join your new job in a few weeks as good employees are hard to find in hand lettering jobs.
Working As A Professional Freelancer
A freelancer in a hand-lettering job has many advantages:
i. You work in your times.
ii. You have a choice in selecting clients and the nature of work.
iii. You fix your remuneration.
The first step in your journey begins by making a marketing strategy to sell your services.
Avoid These Marketing Errors
We will go through the mistakes that people usually make when trying to market their expertise before delving into the actual strategies.
i. Spend time for communicating with other people who are trying to sell their skills. This is good in a way that you may get new insights into hand lettering jobs. You have already done your homework and are now trying to find customers. So, such types of engagements will seriously affect your focus.
ii. Carelessly display indiscriminate samples. Your portfolio should be very well created and sent to those who require it.
iii. You start interacting in peer groups on social media. This can create a fan following but will take up your time and energy. This should otherwise have been put to the best use in getting and completing jobs.
iv. Wait for clients to approach you. This is a cardinal mistake. As a general approach, customers won't come to you. You will have to use all available avenues to reach out to customers.
There is no need to panic even if you make a mistake inadvertently. It won't take more than a few minutes to rectify them. Beware of loads of misinformation available online that can easily mislead you to commit another mistake. Read on and be very sure about where to endow your time to get the most results.
What is Niching?
Once you experience the results of proper niches in your marketing strategy, it will remain your best friend forever to bring in more results. You begin by identifying a particular segment of customers or a specialized output and focus on them using suitable keywords. If you are consistent and pursue the chosen niches tirelessly repeated orders shall be the immediate outcome.
Niches can be topic focused or industry-based. Here are a few examples:
i. Current affairs.
ii. Religious quotes.
iii. Funny sports jokes.
iv. Political incidents.
v. Single fathers.
These are only suggestions. You will be able to identify a few niches that best suits your temperament.
Lettering Methodology: This can be a very attractive niche from the point of view of a customer.
Let us have a look at a few famous lettering artists who were renowned for their styles:
i. Becca Clason: Flood lettering was her masterpiece which appeared on many animations.
ii. James Lewis: The very name flashes images of 3D signage lettering.
Lettering styles include digital and analog, but we are talking about hand lettering jobs.
Lettering experts have specialized themselves in creating beautiful products effectively based on the following niches:
i. Gothic.
ii. Brushstrokes.
iii. Ink.
iv. Watercolor.
How To Create An Effective Niche?
If the niche is a rare combination of style and industry, it will have a greater demand. In a digital world if you are equipped with a keyword that brings in a million results, your probability of getting noticed is minimal. This can be overcome by creating rare keywords by combining two or more popular words.
Let us coin a keyword as your niche for example purpose. What about 'brush lettering of bible quotes?' This may be a neglected blend, but people who need this will find you very fast because it will make you stand out. You can try different combinations initially to discover which all are effective and continue with the successful niches.
Hitting The Road
You have identified your niches and the next step is finding hand lettering jobs. It was mentioned earlier that customers will not flock to you, but you should reach out to them. Start by putting out announcements to large audiences. Make sure that your wordings are not generic and carry class.
Let us move on to a few practical methods to get the best results:
i. Challenging an Audience: They catch the attention of people fast. A typical example is 'four weeks of football lettering challenge.' Increase the reachability of your challenge through suitable hashtags for each social media platform.
ii. Share a few works: Beginners make the mistake of requesting others to share your work. The correct procedure is to create amazing writings that will compel people to share. Try to touch the emotional nerve of a group and you will easily achieve a good number of shares.
iii. Community involvement: Go out and participate in the community events that you belong to, where people know you. Connect with people and let them know your specialty. Online communities and real-life communities are both suitable for this promotion. This will increase your visibility and bring in jobs.
Action Plan To Find Rewarding Hand Lettering Jobs
Work for a fixed amount of time every day to market your hand lettering career. Put aside at least thirty minutes and never skip the schedule.
Be consistent in posting your content with devotion to increasing visibility. You will be able to get results in a couple of weeks with the right intention and routine.