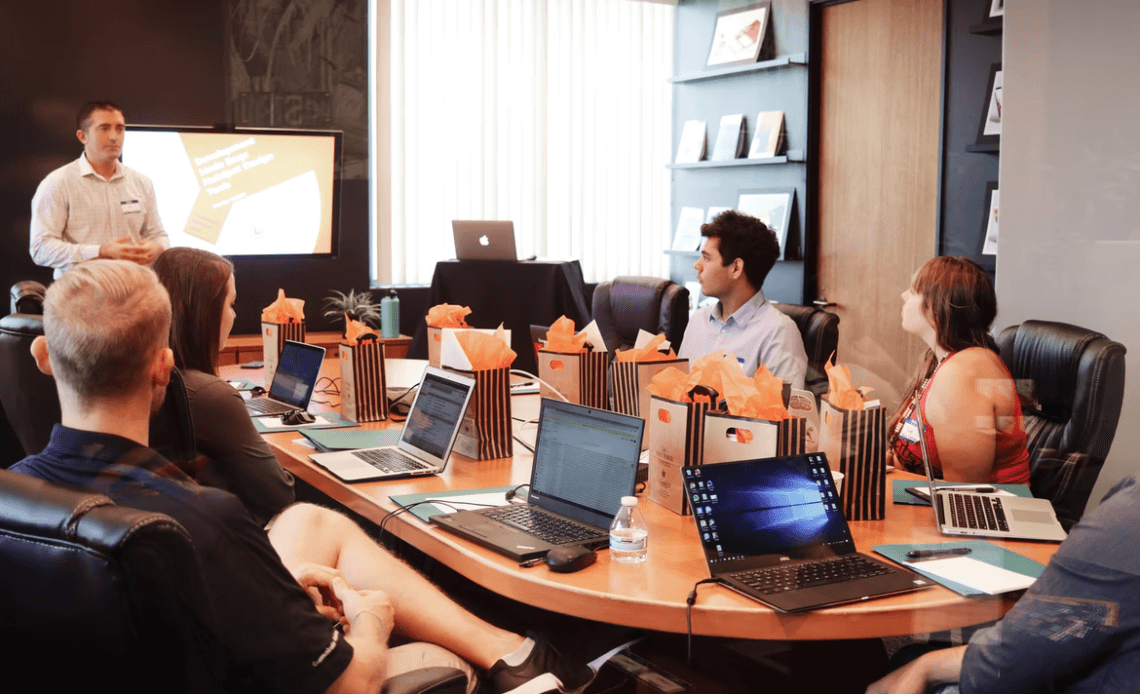 Image Source: Unsplash
What is Prezi?
Prezi is a software that allows you to create new-age presentations for school, work or leisure. It is a Hungarian company and the word 'Prezi' is short for presentation in Hungarian. However, Prezi has gone global and is available in English, Spanish, Japanese and several other languages. So no matter where in the world you are, it's perfect for you. Prezi has more than 100 million users worldwide who have created about 400 million presentations.
It is very different from traditional presentation software like Google Slides or Microsoft PowerPoint because it does not rely on a rigid, linear slide-based format. Instead, Prezi's presentations allow you to tell a story in a non-linear manner. You can jump from one idea to another and zoom in to get deeper and deeper into concepts. The latter is the most important of Prezi's features and is known as a zooming user interface (ZUI).
Keep reading to find out how to change font size on Prezi and make your text look exactly the way you want.
PowerPoint vs Prezi, which is right for you?
PowerPoint might be the perfect presentation-creation software for you if…
– You're not too tech-savvy: One of the main reasons Microsoft PPT is so popular is that it is very user-friendly and has a smooth, intuitive user interface (UI).
– You want your presentation to be structured: Today, tech companies are focusing increasingly on fluidity and freedom, but structure still has its place. For instance, if you're creating a project plan or a presentation on a mathematical theorem, Microsoft PPT might still be the more useful choice.
– You need to give out handouts: If you'd like to give your audience handouts prior to or after the presentation, choose PPT. Slides are perfect for the printed handout format and will help your students or colleagues understand and remember the content better.
Prezi might be the perfect presentation-creation software for you if…
– You create presentations of creative topics: If you're an English professor or a copywriter, Prezi's suitable for your needs. Its non-linear, zoomable structure will allow you to explore these creative topics as deeply and freely as you want to.
– Your audience is children: One common complaint against Microsoft PPT is that it is just plain boring. While adults might be able to stay focused on the content even if it is delivered in a dull format, children are much more easily distracted. So, Prezi's gorgeous design and fun interface are sure to keep them hooked.
– Your audience has access to the digital world: While Prezi might not be as suited to printed handouts, its presentations are stored on the cloud. Not only does this make it easier for you to access your presentations wherever you are, it also allows you to share them with your audience quickly and easily. Just as long as they have access to the internet too, of course.
Here's how you add text and know how to change the font size of text on Prezi:
How to Add Text in Prezi
If you're using a readymade template to create your presentation, adding text is very easy. Just click on the available text boxes and begin typing!
However, if you're creating the presentation from scratch, you need to follow a few steps to add text:
1. Click on the Insert tab in the Toolbar at the top of the page.
2. Click on the "Text" option, represented by a large capital "T".
3. A text box will appear at the center of your canvas. You can drag it to wherever you want to place it, change its size and begin typing in your information.
You can also right-click on any empty space on the canvas. This will open a context-sensitive menu where you can select the option to "Insert Text". A text box will appear and you can proceed as above.
Image Source: Unsplash
How to Change Font in Prezi
There are two ways to change the font in Prezi:
You can change the font by selecting the preset Title, Subtitle and Body fonts. These preset fonts are of different sizes, colours and styles suitable for the different kinds of text in your presentation.
The steps to do this are:
1. Click on or create a text box, a Toolbar will appear at the top of the page.
2. One of the options on the Toolbar will say "Title", "Subtitle" or "Body". Click on this text to open up a menu that displays all of the text preset options for this template.
3. Select the preset you prefer.
How to change font size and make other modifications to your text:
1. To decrease or increase the font size, click on the "A-" and "A+" buttons respectively.
2. The option for manually selecting a font is right next to the option for selecting presets on the Toolbar. When you click on it, you will see a drop-down menu that contains dozens of great font options. You can also click on "More Fonts" at the bottom of the menu to look through an even larger variety of fonts.
3. To bold or italicize the font you have chosen, click on the "Bold" and "Italic" buttons respectively.
If you want both customizability and the consistency and ease of presets, you can create your own. Here's how:
1. Click the "Style" button on the toolbar at the top of the page and then on the three dots "…" next to the "Text" option that will appear on the menu.
2. You will find a wide variety of text presets for title, subtitle or body text.
3. To create your own complete customizable preset, click on "Create New".
4. You will now be able to name your preset, select different fonts and formatting for title, subtitle and body text and customize it even further by clicking "More Settings".
5. After you insert preset text into your presentation, you can further make modifications to it by changing font size and colour. To find out how to change font size on Prezi, see the instructions given above.
How to change font color in Prezi:
1. Click on the "Adjust Text Colour" button symbolized by an "A" with a small swatch of the text color below it.
2. You will now be able to choose from a variety of "Scheme Colours" that go well with the template you have chosen. You can also opt to choose from the "Global Colours" which are a set of primary, popular or neutral colors that could match a lot of templates.
3. If you don't like any of the available colors, you can also click on the "Custom" button to create the perfect color for your text.
4. You can do this in two ways:
i) You can play around with the color wheel and depth slider until you find a colour you love.
ii) You can find the RGB or HEX code for a color you've fallen in love with and type it in to use that color for your text.
Tip: If you'd like the convenience of having a set of pre-selected colors but are unhappy with your scheme colors, you can click on the "Color Settings" button below them. You will be allowed to select a color palette from several preset ones or even create your own for future use.
You can also change the color of your text box by clicking on the "Adjust Background Colour Option" that is right next to the one that allows you to change text color. After you click on it, proceed as you previously did to change the text color. One additional feature available here is the "Opacity" slider that allows you to adjust how transparent your text box is.
How Can I Underline Text in Prezi?
Unfortunately, you don't have the formatting option to directly underline text in Prezi as you do in Google Slides and Microsoft PPT. However, you can imitate this feature by simply drawing a horizontal line beneath the text you want to highlight.
To do this, click on the Insert option mentioned previously and select "Arrow and line". A menu will pop up on the right of the screen giving you multiple color options for the line. Click on the one you prefer and it will appear at the center of your canvas. Drag this line beneath your text and click on it to reveal a menu that allows you to further customize it by changing its thickness and color.
How can I rotate text in Prezi?
To rotate the contents of a text box, first, click on it. Press down on the right ALT and Ctrl keys together for Windows and the CMD key for Mac. Then, drag any one corner of the text box up or down to turn it.
But these are just the basics, it is the ultimate presentation-making tool. As you get more and more comfortable with it, you can do much more with it than just find out how to change font size on Prezi.