For several years we have been witnessing the downfall of personalized notes, letters, and signs due to the ease of using technology to fulfill our needs. Long gone are the days when personalized letters were handwritten. Technology has changed the way we see the world. Now, a personalized letter refers to an email typed exclusively for someone. Where are the emotions that influenced the art of hand lettering?
What is hand lettering?
Hand lettering is an art. It is a subset of lettering and refers to the art of drawing letters by hand instead of creating on a digital platform. There is no specific style of writing in this art. It does not refer to a style of creating letters and words but concentrates on the arrangement of the letters and how they appear together.
It is an extremely easy form of art that can be mastered by anyone as long as they know how to hold a pen. Hand lettering is different from calligraphy, which uses basic strokes that form letters and words. Each letter in hand lettering is unique and a letter created for a specific project is not used again in a different situation. It is created to best fit keeping the project in mind and that project alone.
• Should you learn hand lettering?
Should you or should you not learn hand lettering is a personal choice but here are the reasons why you must learn.
It offers you an opportunity to switch off from technology, distract you from the stress of day-to-day life, and give you a chance to relax
You can make handmade and personalized bookmarks, letters, cards, and more for your loved ones that are unique and one of a kind.
You aid the creative side in you to flourish beyond academics and career
Hand lettering is a new hobby that people all over the world are adopting, there is no reason why you shouldn't. It does not demand fancy pens and other tools. You can start with whatever is available at home with you to start this journey and try new heights as you progress.
How to get started?
Many people believe that to practice hand lettering, they will need a cart-load of supplies. Well, some supplies do help you make this hobby easier and interesting. But if you are a beginner who is unsure whether you will continue it as a hobby, all you need is a pencil, some good pens, preferably a felt pen and paper. You need not go out and spend a fortune on pens, pencils, and paper.
• Things you need
As mentioned before, you do not need a lot of supplies to get started. Having a lot of things would only confuse you. Here are the basics that include pens, pencils, an eraser, a rolling ruler, paper, and a fine liner.
Pens and markers
You will find a bundle of brush lettering trees if you go shopping. Having too many things in hand is just not right for you as a beginner as you may quickly lose interest. Start with a pen that you are most comfortable using, and once you get a hang of the art, you can change to other types of pens that have a fine and firm tip, and offer minor detailing.
Pencil
It is considered the most underrated tool. But is it? A pencil is a vital tool that allows you to lay down your ideas and fix them as needed. Different types of pencils available are used in art. Each has a different purpose. You can start with the basic type H as for hand lettering, you will need pencils whose marks can be easily removed.
Paper
As tempting as you may be to use a fancy paper, don't! Copy papers are the most common piece of stationery found at home. Unfortunately, that's not an ideal choice either. These papers can fray the brush pens. Regular copy papers are ok to use if you are using cheap, old brush pens. But if you have invested in a pen with an amazing brush, you must be careful with the kind of paper you use. You must choose a copy paper with a smooth surface, which will ensure that your pen will last longer. You can use tracing paper, copy paper with a soft surface, and paper pads without guides. For the final art, you can use watercolor papers. As they are a little expensive, it is better left out of your practice.
Books to refer
Now that you have the stationery, how would you start? Starting hand lettering as a hobby would mean that you must have sufficient knowledge on how to get started. You can either attend classes offered by many experts, or you can brush through some of the books that are easy to read, affordable, and comprehensive.
What next? Getting started with hand lettering!
You have the stationery, you have the books, you have read them, you have taken the classes as well. What next? How do you get started with hand lettering?
Getting started with the hobby and getting ahead is a choice that you must make. How to get started is something one can help you with.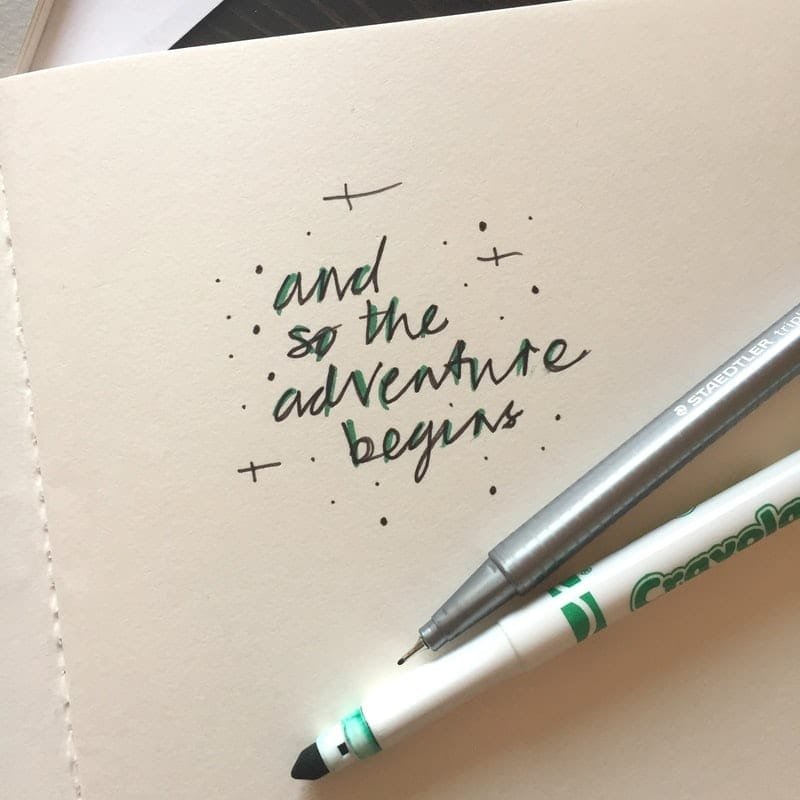 • Get some inspiration
Inspiration can come from anywhere, and when you are looking for inspiration for hand lettering, the internet is the best place to look for. You will find a bundle of images and hand-lettered quotes that may inspire you. Instagram, Pinterest, and many other social media platforms are filled with hand lettering and WordArt that can inspire you.
The internet is not the only source of inspiration. You can find it in just about anything; a billboard with an advertisement to lose weight, a movie poster, a grocery store with several product advertisements, a page on a magazine, and more. Don't wait for inspiration to come to you. Search online for samples and get started.
• Understand the anatomy of letters
Did you know that letters have anatomy as well? One of the easiest ways to understand the anatomy of letters is to experiment. Choose any font and write down a sentence. 'A quick brown fox jumped over the lazy dogs' has all the alphabets in it and is best suited for the experiment. Now just add shadows, and you will see the same font looks different. Change its dimensions and you will see a whole new art. There are a lot of things you can add to a letter to make it look different. What you wish to inculcate while you practice is your choice.
• Get started
Each one of us is so dependent on technology that the practice of writing is fading away. Letters, leave alone cursive letters, are becoming a dying talent as more and more people are leaning towards laptops, computers, tablets, and iPad for everything, from educational notes to wedding invitations. If you have shown interest in hand lettering, then don't stop, get started. Start by playing around with letters and having fun with them. Try doodling and let your fingers get used to the flow of letters. You can try your own letters as well.
• Practice, practice, and practice
Do you remember your childhood? How many pages of copy were you asked to write? How many times did you write the same letter over and over? As a child, you practice, practice, and practice until the letters are itched in your mind and your hands move on the paper like a ballerina. Why are you hesitating now? You may know all the letters, but to be able to master this art, you must practice, practice, and practice more, until it sinks into the muscle memory of your hands. The best way to practice is to write a different letter each day and move up to different words, and master it with a song.
• Take it to the next level
If you practice hand lettering, you are bound to master this art in no time. What next? You can take this art to the next level, which includes:
• Bounce lettering
Bounce lettering is a great way to add character and style to hand lettering. It is a fun art in which you make the letters look bouncy by putting your creative juices to work. It offers endless possibilities to lettering as there aren't any rules to it.
• Flourishing
In simple, flourishing is just adding some decorations to your letters. Some pretty swirls and swooshes are added as a part of the letter. As simple as it sounds, flourishing can be quite tricky and challenging as it requires you to make perfectly planned movements.
• Make some money out of it
Once you have spent countless hours learning, practicing, taking it to the next level, and mastering the art of hand lettering, you will feel the confidence in your work. The confidence can be put to good use in different ways. You can make money out of this art by
Working for a set of clients looking for hand lettering
Put some money in and DIY some products that you can sell
Spend some time teaching others who want to master the art as you did.
Being a part of the dazzling world of lettering can be overwhelming to many people. But once you enter this world, the simplicity of this art forms a deep bond with you like no other. Hand lettering may be a dying art, but with guidance and inspiration, it can flourish.