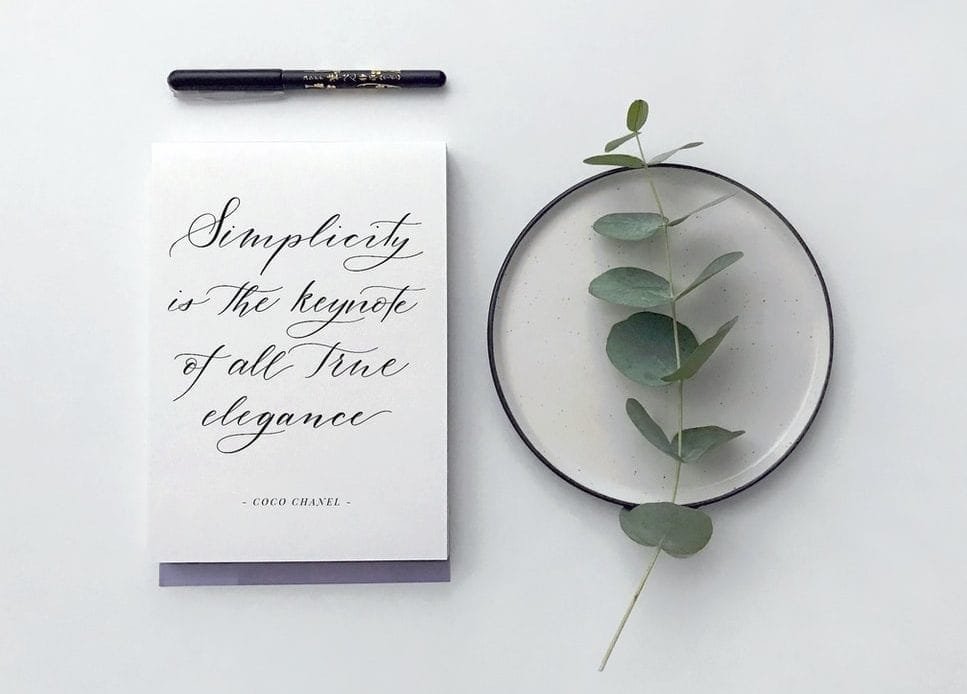 If you are here, then you're interested in learning calligraphy and you need some help getting started. Don't you?
Calligraphy is an in-demand art form, often seen in wedding invites, logo designs, photography props and related design projects. As an established calligrapher, you can earn a lot of commission based on the projects you work on. But you need to first master this art before you start generating income from it.
Of all calligraphy methods, brush-pen calligraphy seems to be a popular option within the calligraphy community. The reason being that you don't need to be an ace calligrapher to create beautiful writing with a brush pen. Beginner calligraphers, who don't have the time to enroll in a full-fledged course, can start either with brush-pen calligraphy on paper or try the Photoshop calligraphy brush tool.
As is the case with most arts and crafts-related skills, calligraphy too requires a good foundation and tons of practice. And it would take a few years to master this design skill. So, it's better to get started with learning calligraphy soon if you're interested in it.
How to get Started
You can get started by playing around with the Photoshop calligraphy brush tool or getting hold of a learner's guide. There is also a plethora of YouTube videos to get you acquainted with the art of calligraphy and lettering. However, if you'd rather take things up a notch, then we'd suggest you enroll for calligraphy classes under an expert.
We know, as a newbie, it is hard to pick the right class. So, we've got six simple hacks to help you – we'll get to them soon.
Play around with the Photoshop Calligraphy Brush
Brush calligraphy is a great start if you are new to calligraphy. As a beginner, you could start simply by practicing with the Photoshop calligraphy brush tool. It's simple, easy-to-use, and extremely fun to play around with. Photoshop's calligraphy brushes are available in different sizes too, if you're looking to experiment. Use them to add some zing to your posters, presentations, blogs and websites.
Attending Calligraphy Classes
Learning this craft by attending workshops or classes under the guidance of a calligraphy expert is the oft-recommended way to get started – majority of the calligraphy newbies worldwide swear by this.
Some advantages to attending calligraphy and lettering classes include receiving instant feedback on your work, getting immediate answers to your questions, and ensuring that you're learning the skills correctly. Accountability is another big advantage of attending classes. Self-learners usually tend to procrastinate since there isn't anyone motivating them to finish their lessons or assignments on time. On the other hand, when you have scheduled class sessions and assignment deadlines, there will be less room for slack.
A few months earlier, enrolling in a good calligraphy class was simple. Walk up to the nearest college or community center offering calligraphy classes and sign up. Now, with the global pandemic upon us, we are almost completely dependent on the Internet. While this has been helping us learn new skills at nominal costs and added convenience, there's a downside to this too. With scores of online classes available, it has become difficult, and at the same time, important to pick a genuine course.
Tips to pick the right Calligraphy Class/Course
So, as a beginner to the art of calligraphy, how can you identify and choose the right class? From classroom learning to distance and e-learning, there are a number of ways you can get started with your calligraphy lessons. It can be quite overwhelming when the choices are endless, making it all the more important to make the right choice. These six tips will ensure that you don't end up making the wrong choice when choosing a calligraphy course to pursue:
1 – Pick a course that suits your competency
When picking a calligraphy class (any class, for that matter), the first thing you should consider is how well the course objectives suit your needs and requirements. Some classes may require you to already have basic knowledge on the subject. And some classes would only require an eager mind to learn.
If you're getting started with calligraphy, you'd want to enroll in a course that introduces you to basic lettering, letter strokes and calligraphy tools like pens/brushes. But, if you've already had some experience with calligraphy – probably you tried your hand with the Photoshop calligraphy brush – then you would want to look at a more in-depth class.
So, make sure you read the course requirements and syllabus before you enroll for a class. If it isn't in line with what you had in mind, you may want to look at other options.
2 – Search the course instructor on the web
Every class/course will have an instructor or two, who will be your mentor throughout the course. Ideally, you should always look for a skilled or qualified mentor who has at least five to ten years of experience in calligraphy. This is important as you are investing your time and money to learn the skill.
Before you sign-up for a class, you must look up your class instructor without fail. A simple search on Google (or your preferred search engine) or LinkedIn would suffice. Check out their experience, projects handled and their customer/business reviews.
Also, all calligraphy instructors will have an online portfolio showcasing their work. So, it's a good idea to look at the instructor's portfolio to further understand if they are the right tutor for you.
3 – Choose a convenient mode of learning
Today, there are three different modes of learning – the old-school classroom style, online live classes or online/distance self-learning.
If you're a working professional, you may find it difficult to attend classroom sessions. These typically involve four to five hours of classroom lessons, mostly on weekdays. However, these days, institutes are offering classes on weekends too for working professionals.
Live online classes have been specifically designed for those who prefer to learn at their convenience and from the comfort of their homes. But they still want a classroom environment, albeit virtual. This mode of learning has gained immense popularity since the COVID-19 pandemic took over our world.
In online/distance self-learning, the institute or instructor provides learning materials – pre-recorded videos, notes, self-assessment quizzes and assignments – which you can learn at your pace.
For calligraphy, we recommend you go for either classroom training or live online classes since the learning curve is much higher in these than the self-learning mode. These modes allow for two-way real-time interactions with instructors, live hands-on training, and instant feedback on your work and assignments.
4 – Opt for a holistic learning experience
Be it any skill, learning shouldn't be restricted to taking notes or rote memorization, especially when it comes to a practice-oriented skill like calligraphy. It is extremely important that the course encompasses not only the theoretical aspects but provides the much-needed technical expertise too.
A good calligraphy class will incorporate a good mix of theory and hands-on real-world experience. There will be scope for question-answer rounds, additional reading materials and practice projects, and interactive sessions with your instructor and peers.
5 – Ensure a good support system, placements and certification
These play an important role when choosing the right calligraphy class for yourself. A good institute or tutor will provide ample support for their enrolled students. Support can be in terms of financial aid and scholarships, resolving complaints, addressing grievances, providing sufficient materials, and so on.
If you're paying for your calligraphy course, it is important to consider the certification you'll receive on completing the course. Since calligraphy is a niche field, it is important that your certification has genuine affiliations. Else it may not be considered by any or all prospective clients.
Apart from this, it is also important to look at the post-course support that your course-provider offers. Do they help you find projects or clients? A simple way to know this is by either looking at the provider's past placement record or connecting with former students.
6 – Choose a lettering style at a time
This isn't for beginners who are yet to conquer the foundations of lettering and calligraphy. But, for those of you who already have a sound knowledge of the basics, we suggest that you pick a style first. You can probably get started with the Copperplate script, for instance. Master a style at a time and then move on to the next. You don't want to be a jack of all trades but master of none, do you? Once you've decided on a style, you can enroll for specialized training in that particular style.
Lastly…
Community support and networking are extremely important if you're looking to carve a name for yourself within the calligraphy community. In the social world that we live in today, it has become extremely easy to connect with the calligraphy community across the world. Join groups on Facebook and Instagram, be a part of conversations, showcase your work – just put yourself out there. So, are you ready to get started with your calligraphy classes? We bet you are!